Orientation
Welcome Future Buckeyes!
We are excited for you to join us! Please review the below information for step by step instructions on getting your BuckID
We are now accepting submissions from the following groups:
2023 New International Students
2023 Transfer Students
2023 Orientation Students
Ohio State Online Students
OSU Mansfield, OSU Marion, and OSU Newark Students
Online Graduate Nursing Students
Online Business Graduate Students in specific programs
This information is designed to help you navigate the steps of our online photo submission process. Please make sure to read each step before getting started.
Students

that already have a BuckID from any Ohio State campus or program do not need to complete this process. Any student with an existing BuckID just needs to bring their BuckID with them when they return to campus!
STEP 1: Take Your Photo

Have someone take a passport style photo of you in front of a light, solid color background.

When taking your photo, remember:
The photo should be taken in front of a plain white or light-colored wall - using photo editing software to remove the background is not acceptable
The photo should only contain your face, from below your shoulders to just above the top of your head
Face the camera directly with your full face in view
The photo must be clear and of good quality (i.e. not blurry or pixelated)
No hats, headbands or sunglasses
Head coverings are allowed only if worn for religious purposes
Eyeglasses should be worn if normally used
STOP: Take your photo following the above instructions before continuing!
STEPS 2 - 4: Upload Your Photo

Login to MyPhoto and follow the on-screen prompts

Select the appropriate program type
Students will select based on instructions from BuckID, their campus or their department (Ohio State Online, Nursing Online Graduate students, Fisher WPMBA, etc.)

Upload and edit your photo - you will be able to make minor cropping and rotation adjustments, and preview your photo, before you complete the submission
STEPS 5 - 7: Upload a Government ID

A Driver License, State ID or Passport are valid

The ID must be completely legible and include a photo
MyPhoto steps 6 and 7 will allow you to adjust, crop and preview your Government ID prior to submission
NOTE: Your ID is stored encrypted and is securely deleted once your photo and personal information have been verified. We do not keep your ID on file.
STEPS 8: Sign Your Name in the Signature Block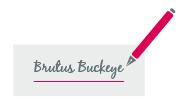 STEP 9: Finalize Your Submission

BuckID will review your submission within 14 days, and you will receive a notification of the status of your submission via email.
When and how will I get my BuckID?

Students that are scheduled to take classes 100% online will be able to access a digital BuckID through the Ohio State app on Apple or Android mobile devices, and will not be issued a physical BuckID at this time.
Students completing orientation on the Columbus campus this summer will pick up their BuckID during their orientation session.

Students that do not attend an in-person orientation can schedule an appointment to pickup their BuckID from the BuckID office on their primary campus once they arrive to campus.
Regional campus students will pick up their BuckID at the regional BuckID office at their primary campus of enrollment. You may receive additional information about the pickup process from your primary campus.
READY TO GET STARTED?
If you have your photo ready as described in Step 1, access MyPhoto below: